Eureka ~ it's Friday the 13th (& my birthday)!
It's a Friday the 13th birthday for me today, and to help celebrate, I'm offering 20% off any item in the Kambriel Etsy shop by entering the code: FRIDAY13. (good throughout this weekend)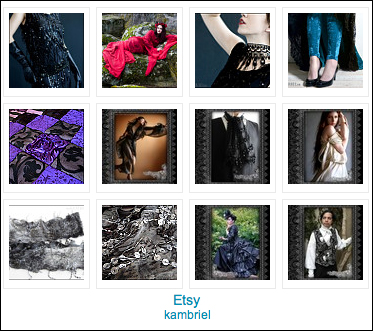 Also……. The 21st Century Premiere of:
Eureka! Fashion that could -save your life-.
Once upon a time, it was a not-so-dark and not-so-stormy evening wherein the ever-elegant Madame Kat & I poured over the pages of bound antique magazines, dramatically reading aloud the often unintentionally hilarious advertisements and articles within, only to find one that stopped us in our tracks. 
The Eureka Air Bustle
The text went on and on espousing the merits of such a thing, but then we got to the point where it mentioned the possibility of being used as… AN INFLATABLE LIFE PRESERVER. 
Enter here, my friend and  *adorable* artist Tanya Bjork who took it all a step further and brought the vision I had dancing in my head to life with her whimsical illustration.  
We're getting closer… The final step,  Gwen, screen-printer extraordinaire who is bringing the design to life on cream coloured shirts, echoing the aged parchment we found the original antique text upon.
And thus, 100 years later, the EUREKA is reborn!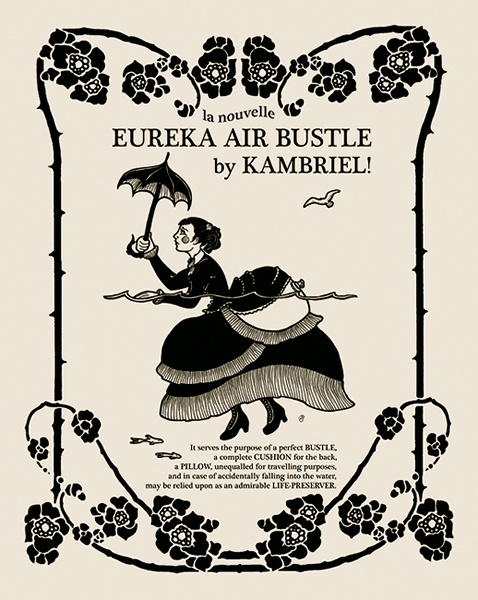 Yes, that's right… She has a blow-up, inflatable bustle bouying her up above the waves :) 
I decided to do the first run of these as a pre-order ~ to ship within the coming month.
We're planning to do short-sleeved ladies t's similar to the below style (but in light ivory, not the dark grey shown below), in "pre-shrunk, 100% 30 single-combed ring-spun cotton, super soft baby jersey knit, with contoured side seams" in a creamy ivory tone (like the photo of the illustration design above ~ perfect for Summer):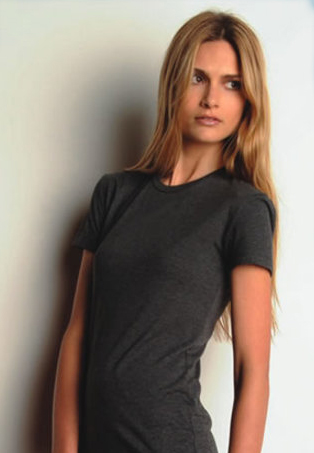 Gents ~ If any of you would like to wear this bit of neo-Victorian whimsy ~ just specify your size when ordering (same basic ordering info as below) and we'll make sure you're covered as well ~ also in a deep sand/ivory tone.
The pre-order price this weekend is only $25 each *including shipping* in the domestic US.
Available sizes are S, M, L, XL, or 2XL.  
Feel free to get in touch if you want one shipped internationally & we'll figure out the cost.  
To order: Just send $25 per shirt via http://www.PayPal.com to: info (at) kambriel (dot) com 
Be sure to include a note mentioning whether you'd like men's/women's shirt/s & which size/s along with your name & shipping address.  Thanks!
(Source: kambriel.livejournal.com)