Photos and tales from Amanda Palmer & the Grand Theft Orchestra's opening night concert in Philadelphia, behind the scenes photo shoot sneak peeks, and the dramatically long, ethereal chiffon train Amanda commissioned me to make for her  epically elegant Bottomfeeder crowdsurf!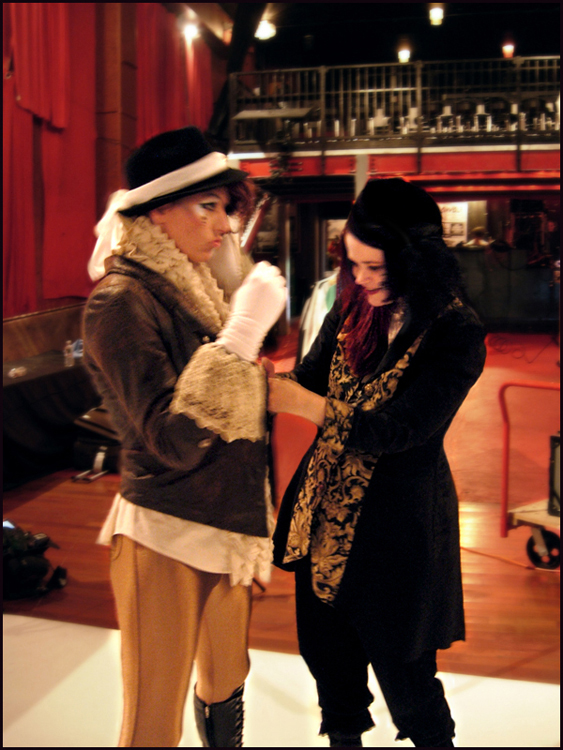 To commemorate the big New Year's Eve show Amanda & The Grand Theft Orchestra are doing in NYC wherein they'll play Prince's *entire* "Purple Rain" album, they'd planned a photoshoot (yet to be unveiled!) with Kyle Cassidy, inspired by one of Prince's iconic posters for which I was asked to style the wardrobe. Since time was short before the shoot, I did a combination of sourcing things from my own closet, making some items, and thrifting for others to embellish/alter. 

I joked with everyone that I wasn't sure if should be a matter of pride or shame at just how natural it was to find a selection of Prince-ly clothes in my closet… Amanda immediately said, "Totally a matter of pride!" Because, of course I have boxy magenta brocade and velvet kimonos, berets, flounce shirts, lacy jabots, etc… At times, I forget this isn't how *everybody's* closet is ;)

A moment caught in time, unexpectedly captured by Chris while I worked on an impromptu fastening for Amanda's jacket right before the shoot: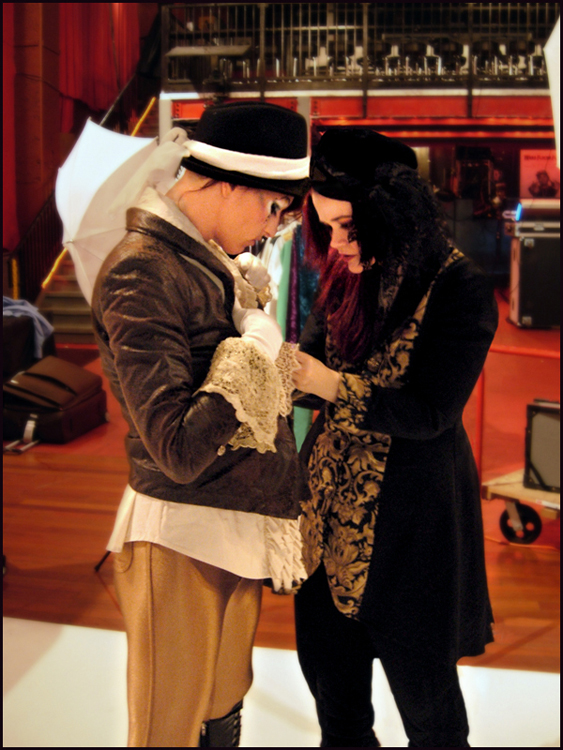 I wish I had a photo of Jherek in his royal purple tailored blazer. He wore it so well, after the shoot, I just told him to go ahead and keep it. The best thing is at the show that night at Midnight, I found out it was his birthday, so it ended up being an inadvertent, yet cosmically-appropriate birthday gift :)

Here's Ryan, Kyle, Trillian & myself, waiting for our ride to the show. Photo by Kate McKinnon (who just happened to be in Philadelphia that night by the serendipitous happenstance of an overnight layover!):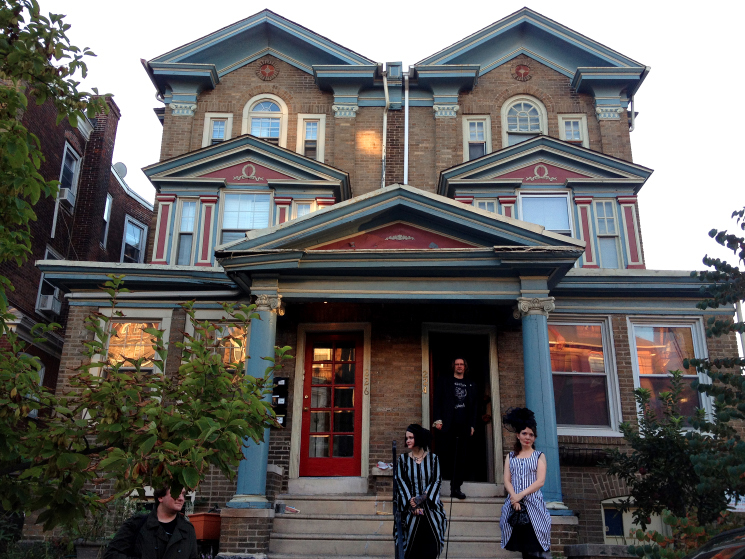 That night, at the tour's opening show in Philadelphia! I loved the lighting they used for "The Killing Type":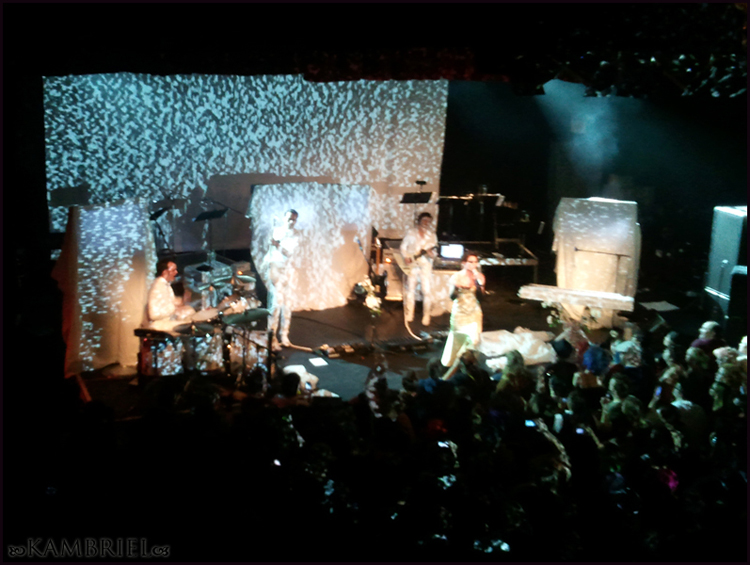 Bated breath… This was to be the first attempt at using the crazy train (apologies to Ozzy) I made which was attached to one of Amanda's pre-existing jackets, using what felt like miles of four different colours of chiffon to give a watery effect which was made to pour out over & be held aloft by the audience while Amanda crowdsurfed to the song "Bottomfeeder". You can't see the end of it here, but the train went back the full length of the stage & then some!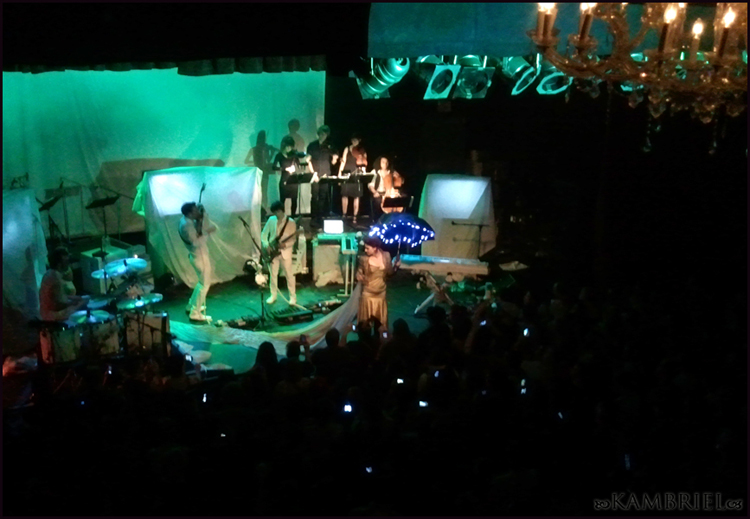 "Do It With A Rockstar" ~ Amanda wore a Frank Sinatra t-shirt for this ;)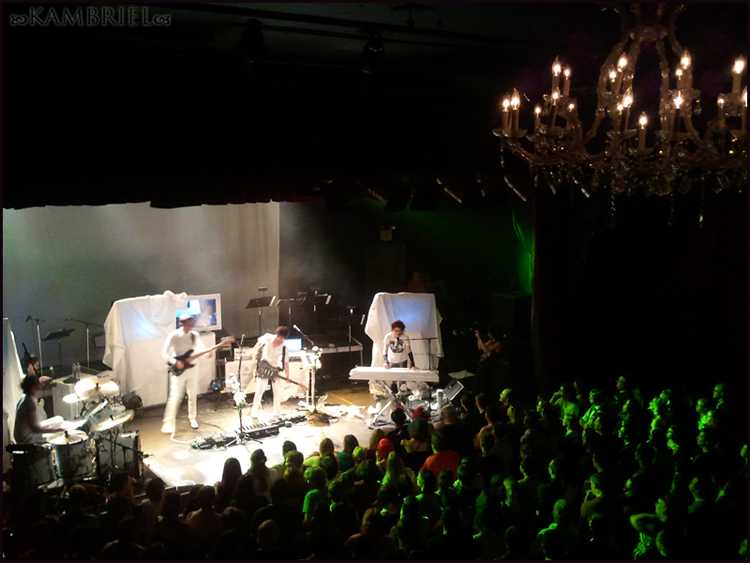 (We got back on the road the next morning since in the middle of everything else, we've been in the process of helping an injured crow recover from a broken leg by keeping a close eye on him and making sure he has clean water and fresh food. Happily, he never lost his ability to fly, and is very clever and learning to manage quite well as he heals. Yesterday was the first day we saw him together with three other crows again, and they all kept close watch and ate their fill of the food we put out for them, so I have high hopes that he's on the road to recovery which makes me so very happy.)

This photo was taken the night before last in Carrboro during "Ukulele Anthem" in a moment of *literally* being supported by the audience. Half a dozen or so people who held Amanda aloft in a seated position for the entirety of the song ~ a combination of their strength, a handy support beam, and years of yoga! 

This was also Amanda's first wearing of a new pair of peacock crushed velvet leggings I made for her: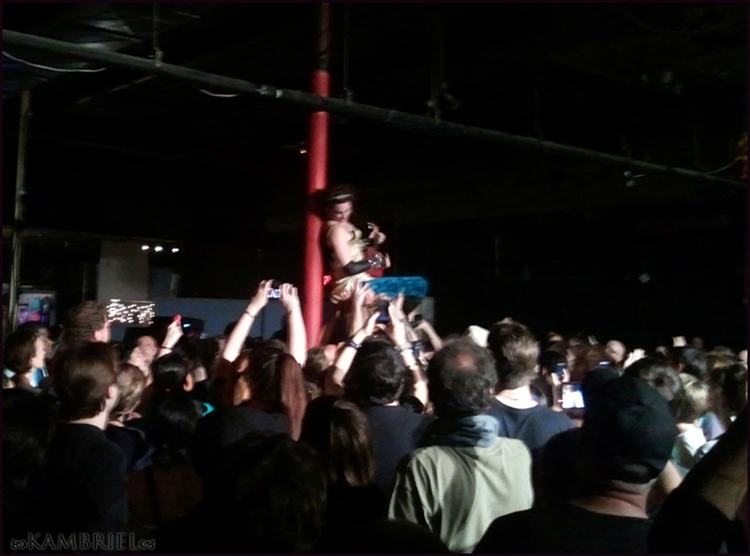 Torch song glamour… Amanda at the very beginning of Bottomfeeder, holding out the upper portion of her immense chiffon train.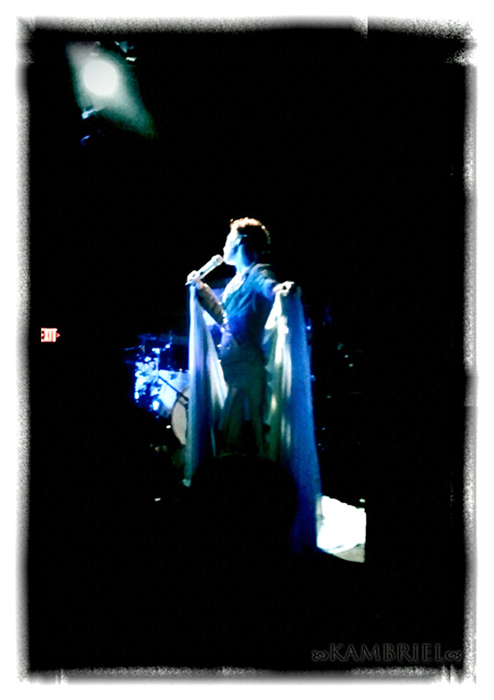 I'd venture to say her entrance into the crowdsurf was quite possibly the most elegant ever: 



Floating upon waves of outstretched hands. This amazing moment lasted the entirety of the song, and sent Amanda all the way from the stage to the very back of the venue, around, and up to the stage once more… It was magic:



This photo shows the effect from an aerial view ~ a few nights before in NYC, as photographed by @Lesliedf:



If you can catch one of their performances on this tour, it really is an amazing show. I think one of the things that makes it so special *besides* her exceptionally talented band (who just also happen to be incredibly *nice*), is Amanda's ability to erase the line that normally exists between performer and audience. 
Also, at the end of this month, I'm collaborating on a show with the inimitable Dame Darcy… hopefully I'll be able to post more details about that soon!