Let's Go To Bed… The Bed Song Video shoot
One thing about me &  
Amanda Palmer
 is we're cut from a similar cloth when it comes to inspiration hitting sometimes without much if any warning, and saying a full-hearted *yes* to things others might see as far-fetched, impossible, impractical, etc… 
Such a time happened recently when I got an email from Amanda asking if I might be able to come build a gown made of bed sheets on set for a video they were filming in upstate NY in a week. Within the hour, I'd already sketched out a series of five dresses to build upon one another until it reached a grand conclusion, with each dress tying into a specific verse of the five verse song. At first, it seemed like it would need to basically be made in the film version of real time ~ almost like a stop motion design coming to life before your eyes; which seemed both exhilarating, and a huge honour to be entrusted with, but also like it really needed to be amazing since it didn't seem there would be much else to the video other than Amanda, the piano, and the organically growing gown being created before everyone's eyes.
In the next few days, things morphed, concepts evolved, and I got a clearer picture of what was being planned. There would be actors, sets, theatrical vignettes interspersed with Amanda playing the piano, laying her heart bare through song. I'd still likely need to create the look on set when Amanda & I could bounce ideas off of eachother in person, and I could wrap the fabric around her, but now I had the luxury to begin a bit of work in advance ~ with just two days to go before flying to NY!
~~~~~~~~~~~~~~~~~~~
As soon as the plane landed in NYC, I was faced with this ~ the question of course being which kind of omen? I asked the universe for a sign, but in the meantime decided it would either be a good one, or at least a Zen-neutral one. 
Remember kids at home… you can't have a proper omen without women!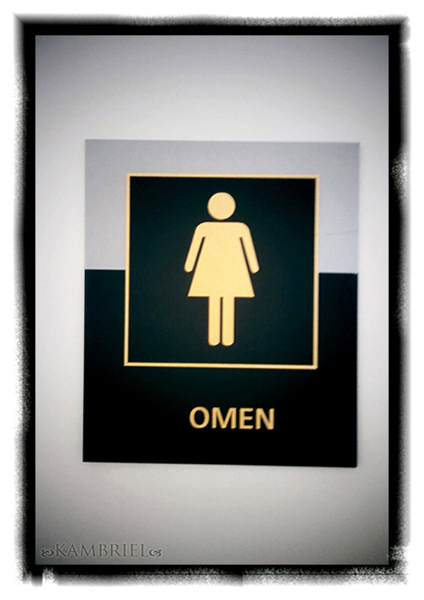 The train ride upstate. Ahh, some blessed cool & quiet after the packed as sardines plane & overheated subway rides! Right before this photo was taken, I spotted a river otter blissfully floating on its back, along the Hudson. I'm pretty sure the otter was reminding me to stay in the moment.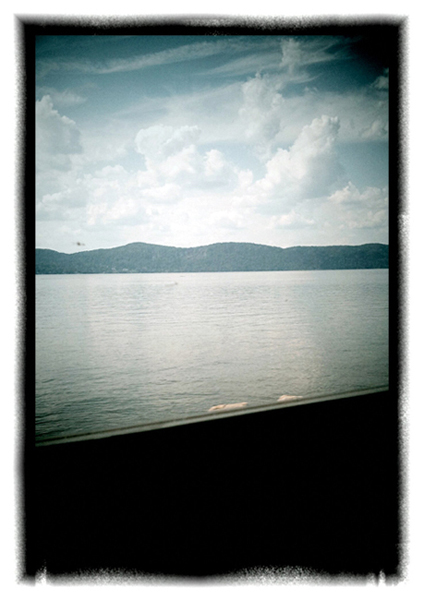 A-ha, a few hours later and the omen question's answered! Thanks universe ;)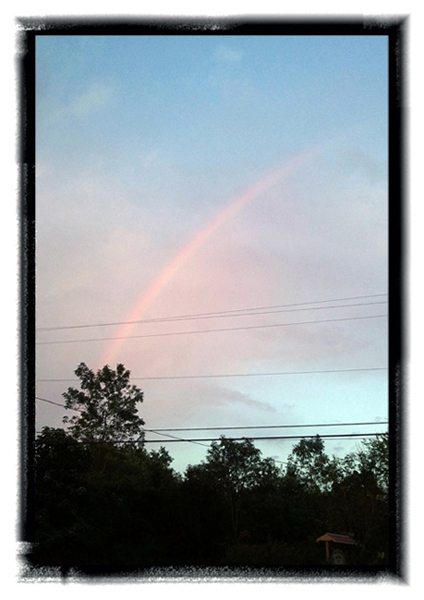 Here is the architectural jewel that the video was being filmed within at Bard College ~ our inspiring theatrical home away from home: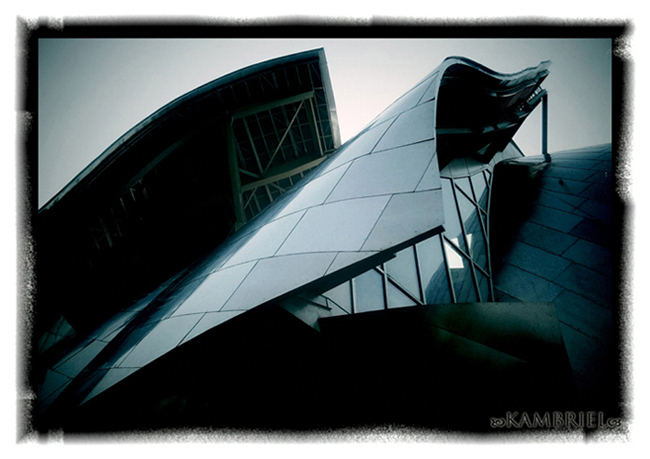 My one regret is that things were moving at such warp speed, I never got a photo of the finished gown I arrived on set with that first morning. It was a graceful backless dress, with spaghetti straps and countless bias flounces that framed the edges of the perimeter of a very long & flared train within a train within a train. The low-cut front bodice was detailed with the pintucking you'd find a few inches down from the edge of a pillowcase. Unfortunately, it was more bridal quality in its construction, polished, pretty… ~too~ pretty & finished, and the look we ended up going for needed to still be graceful and beautiful, but also somewhat rough and improvised. I needed to simplify things a lot & punk it up and build in some other details via some brave cutting, removing, slashing, and draping.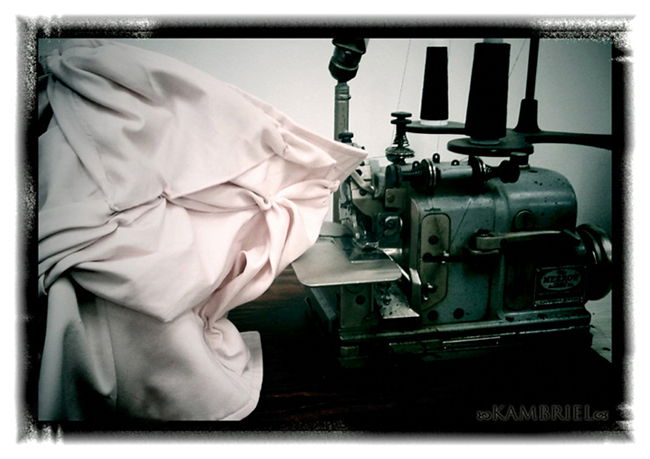 This all transpired within the two hours between arriving on set at 8AM, and when filming would start at 10. After doing the initial fitting with Amanda and figuring out the aesthetic path to take, we probably had about an hour left. There was no time for wistfulness cutting layers off the original dress… just time for CREATING some imperfect perfection FAST. Actually, the original plan when Amanda first asked me to create a gown for the video ~was~ for me to just do it basically on set to begin with, so this wasn't out of the range of possibility, I just took it upon myself to do some work on the couple of days I had before flying up to see if I couldn't build a foundation for some of it in advance. Of course me being me, I completed one (the backless gown with the plethora of bias trained ruffles) *and* made a strapless bodice as another option to have on hand (a good thing since it worked perfectly to build the style we ended up going with upon!). I had to be really careful though because there were only two sets of sheets available in this exact colour, so if anything didn't work, well, it ~had~ to work ;) At one point, I'd done a punk-couture job with some asymmetrical ruching, twisting, fabric manipulations and such, but then after quickly conferring with Amanda, we decided to loosen it up a bit, so I lightning-fast took some of that out and put new, slightly more symmetrical folds & gathers in. The additional fabric for the draping around the bodice top came from one of the sections of train I'd cut off the skirt…
Here we are about to start filming, and I'm "zsoozsing" the very last bits in back to adjust the fit on a gown that had COMPLETELY TRANSFORMED FROM ONE CREATION TO ANOTHER IN ABOUT AN HOUR: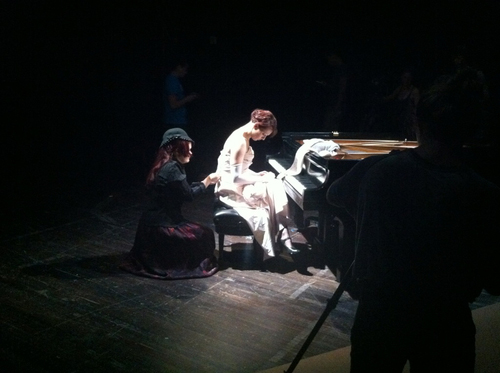 Et voila
, SUCCESS in record time! I snapped this photo of Amanda just seconds before filming began. I love the effect of the lighting and the softly crumpled texture of the fabric of the sheets… as if she'd just woken up and wrapped them around her in order to sit at the piano and sing to absolutely no one at all: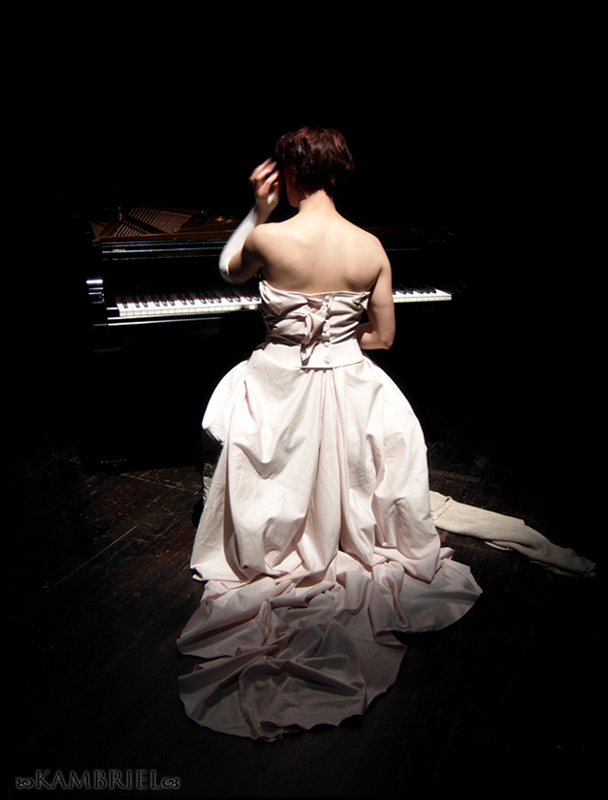 This was me the next morning, much more relaxed knowing at that point the dress was pretty much taking care of itself :)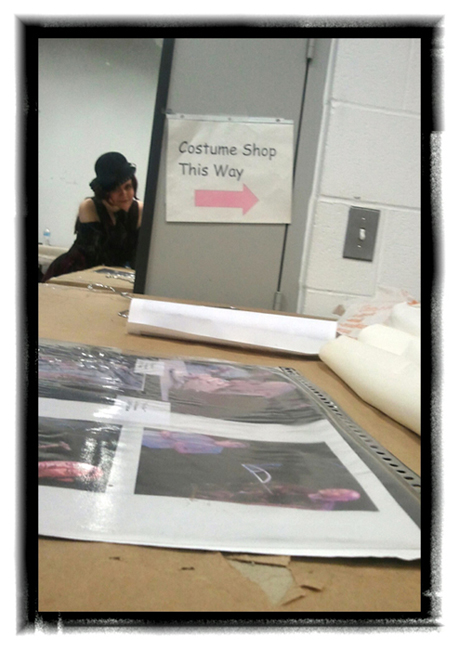 I made fast friends with that dressform in the corner. Not sure I could have done all of the last second fabric manipulating & draping without her, so I'm so glad there was an actual workroom on site to use! Had I realized this in advance, I'd likely have travelled with a lot less "accoutrements", but it's always nice to have familiar tools on hand, especially when there's no room for error and no time to spare…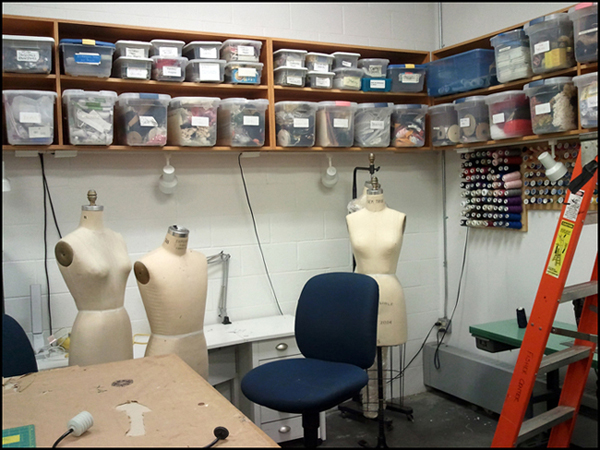 Now is the time on Sprockets when we take a break!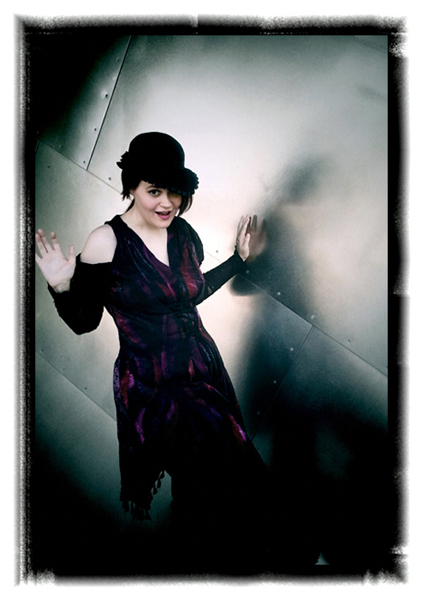 Later, in the dressing room with a copy of the not-yet-released cd peeking out from beneath the gown's bodice: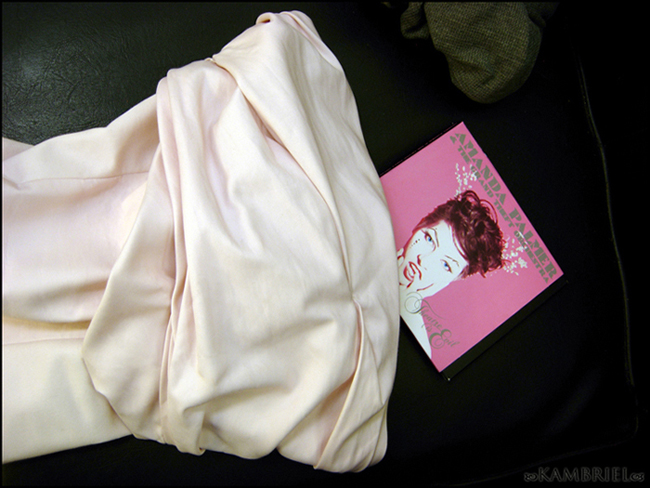 Devil's in the details. As one of the actresses (who just happened to be the most rocking 80 year old you ever met) said, "What this video needs is more of those legs!" ~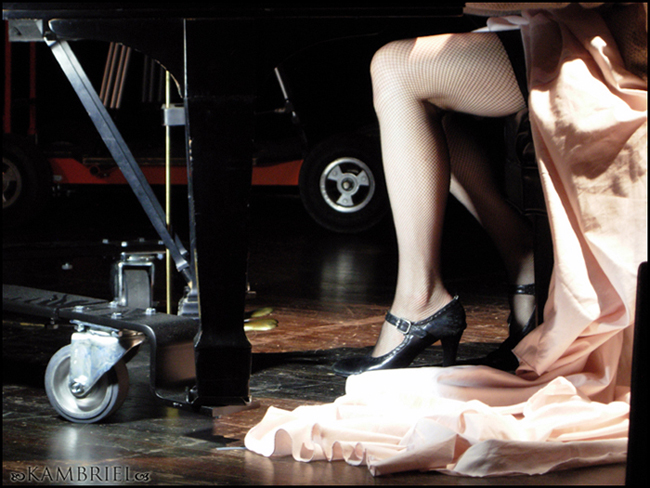 Glamour Squad! The fabulous Justin Tyme on hair/make-up & me with wardrobe, doing some last minute touch-ups before a shoot. The location was a timeless & romantic garden on the banks of the Hudson, with more butterflies in one place than I'd probably ever seen.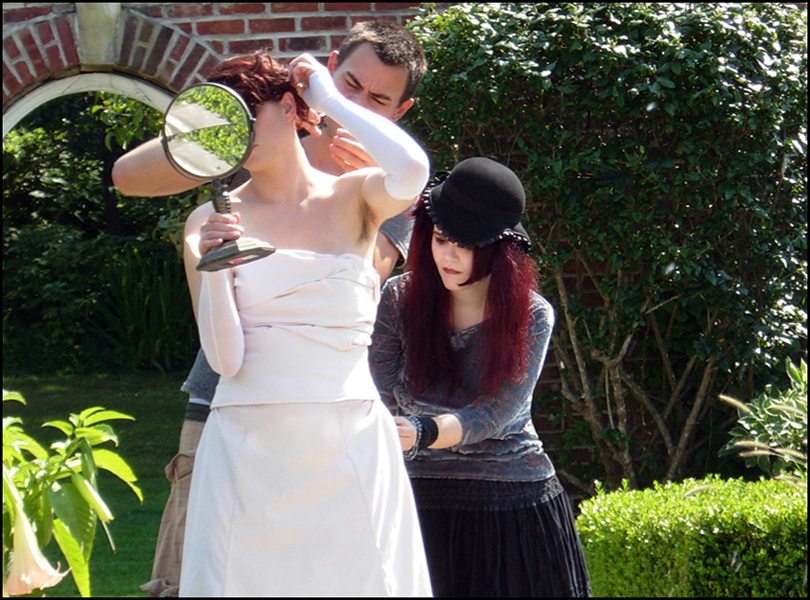 As a matter of fact, I made this photo from blending one I took of Amanda, with one of the butterflies that just happened to land directly in front of my camera while I was taking pictures. I liked the vintage look of it in black and white, but the colours of the butterfly melded exceptionally well with the colours of her vintage kimono: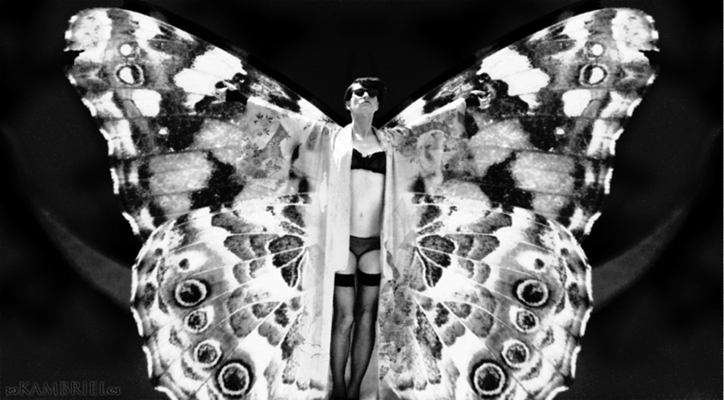 A little bit of Berlin on the Hudson: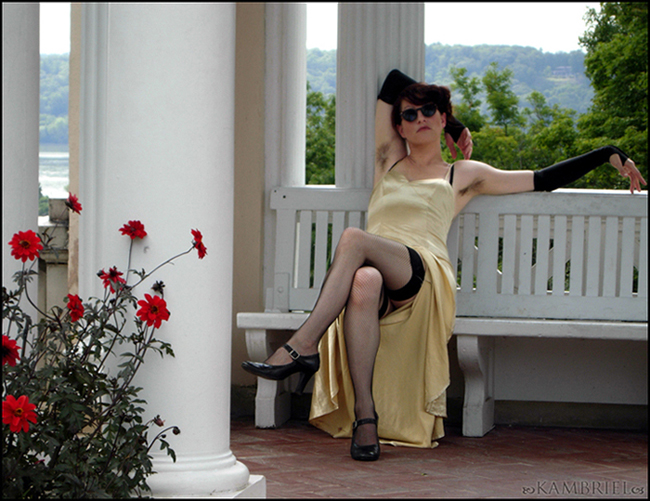 Or was it Paris?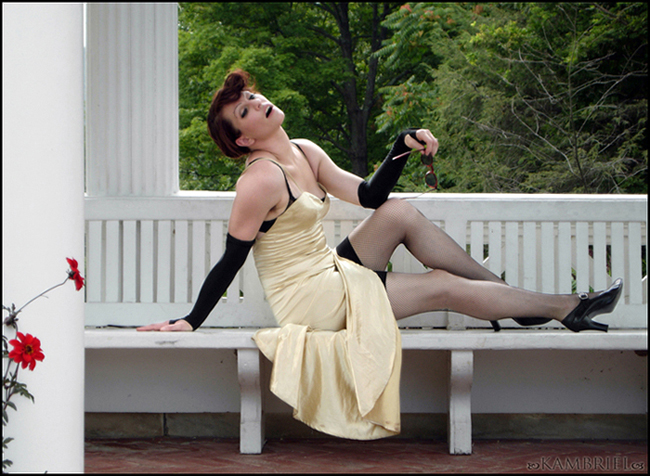 This was right around the time I told Amanda that it's a pity she's so shy ;)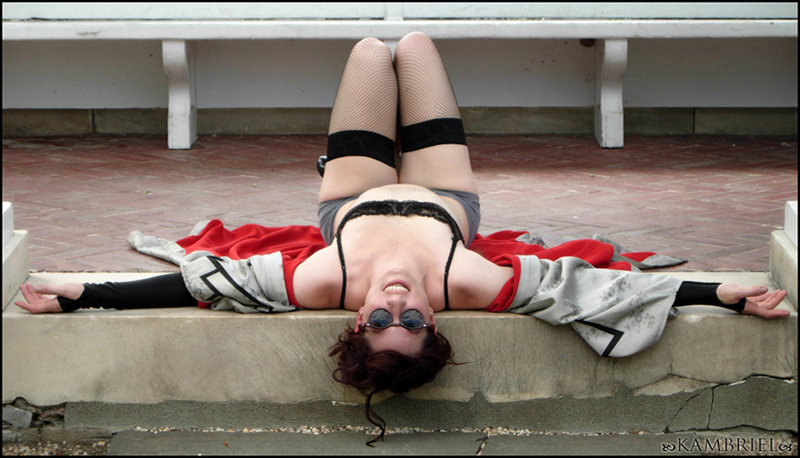 Back on set. The schedule for day two of the shoot was set to start at 7:30 AM, and wrap at 3:30 AM. No one can ever accuse Amanda (or any other member of her seriously talented & dedicated team) of not working *hard*. This photo was taken around hour 17 of the first day: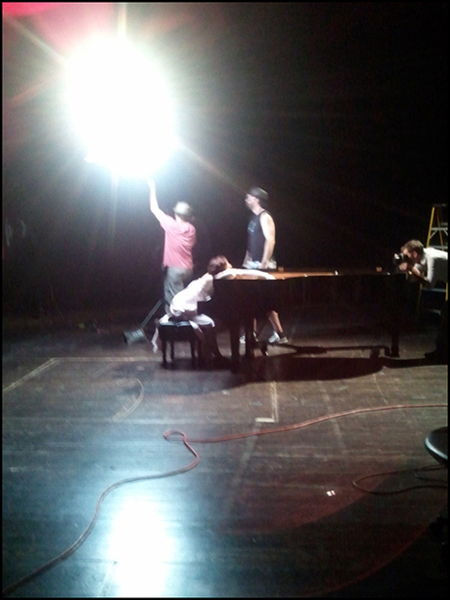 After wrapping the video on day two (36 of 48 hours were spent on set), and getting about three hours of sleep, it was time to leave a still-slumbering farmhouse full of 15 or so souls nestled wherever they could find some space, and head to the train station back to NYC. Having arrived in the wee hours, I hadn't yet seen this glorious tree, and it was hard to leave it so suddenly with it majestically beckoning in the early morning light: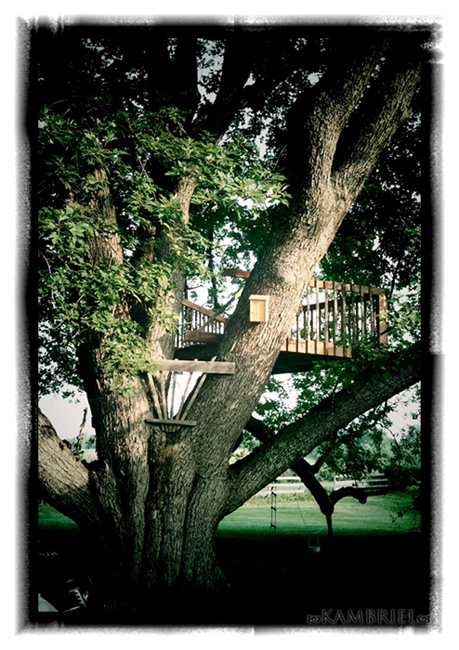 I spotted this card in NYC before heading home from a trip that a week before, I never knew I'd be taking, and think it sums everything up perfectly: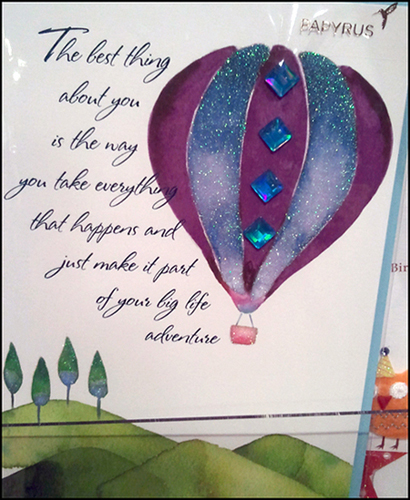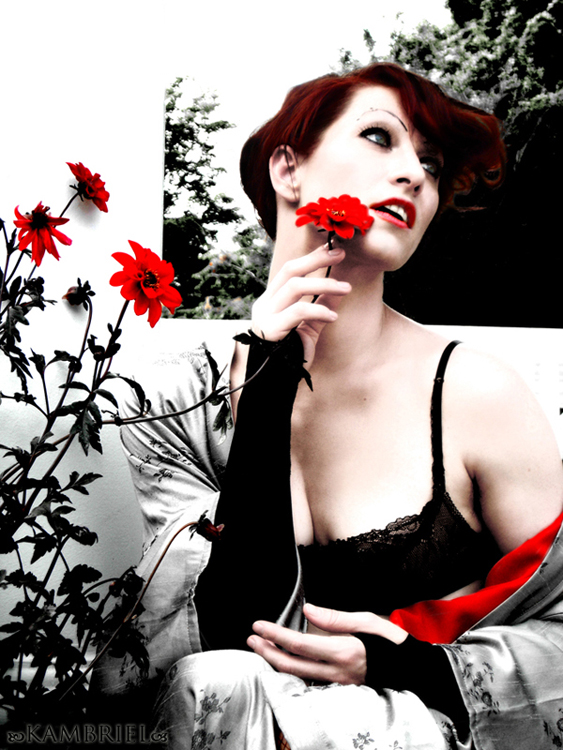 Be Adventurous,
~ Kambriel