In seemingly perfect timing as details of Neil Gaiman's newest (and absolutely enchanting, antique-inspired) upcoming editions of "Stardust" are about to be released, so too has there been a kind of reincarnation of this coat worn by the grey ghost spirit of Prince Septimus in the 2007 Stardust feature film. 
Neil had this coat treasured alongside some other Stardust wardrobe pieces in his personal collection, but rather than merely have them hanging around for posterity, he wanted them to be transformed into something that could be worn and actively enjoyed. It was a real honour that he entrusted me with this, and in reverence to the original pieces, I wanted to make changes that would be significant in improving their wearability and Neil-ness, whilst still respecting the creative workmanship & sentimental history of the originals.
Luckily, I was able to have Neil try the coat on in person when I was visiting him at his house a while back & the coat originally had rather spidery long + extremely narrow arms, so they needed to be both shortened in length & given a bit more room as well… You'll notice they have a split seam so they would flare out over the hands.  I looked at them, and began to think, "What if I were to cut off the bottoms of the sleeves and turn them on their end, so that the flare could work with the shape of the forearm?"… 
I felt the coat would also be more wearable (especially for Neil, taking into consideration all of the travelling he does, and how this tends to require fitting things into luggage in rather cramped quarters) if it was given a somewhat shorter, more tapered overall length. This would also help to reduce some of the weight of an otherwise very heavy coat. Whilst I was at it, I wanted to see if some excess wrinkling/sagging that the leather had undergone from stretching out in places through the years could be worked out for a smoother effect.
A quick snapshot of the "before":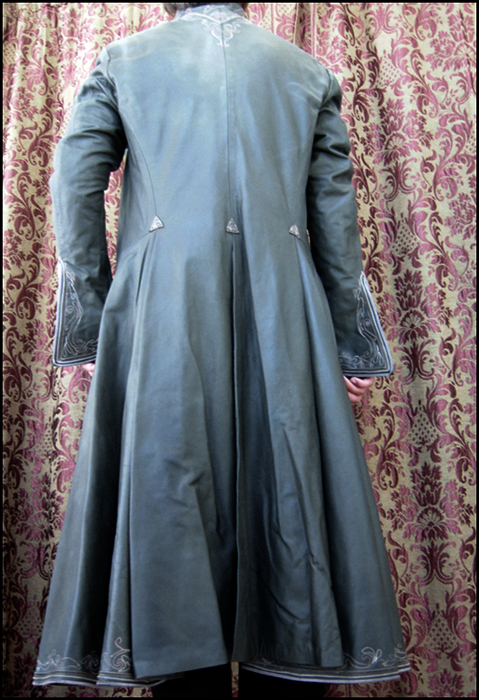 I'd be needing some coordinating material to work the new sleeves from though… I wanted something non-leather, so after going through samples of what seemed like every shade of grey wool known to man in a weight that would hold up to the heft of the leather, but never finding quite the right one, another thought occurred to me.
Why yes, Septimus' trousers did have a split seam, and why yes, that sueded velvet did have such a nice weight, and of course having originated from the same outfit, the shades would go… 
Dare I sacrifice them??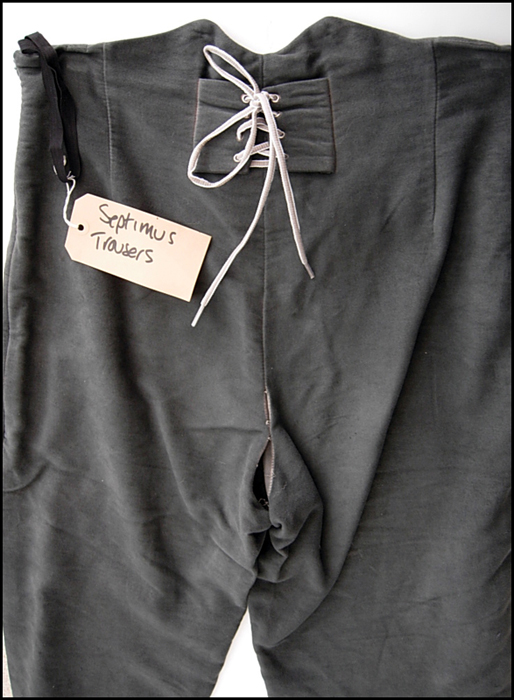 Indeed, yes!  A moment's bravery and it is done… enter magical scissors that hath no fear: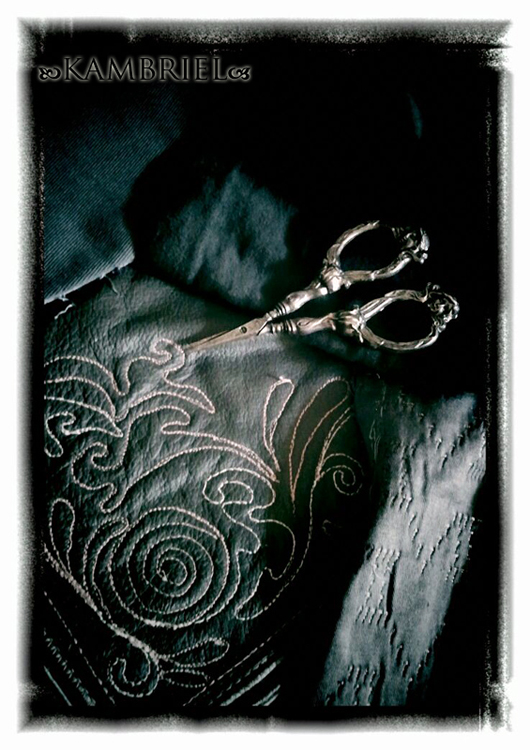 Et voila ~ the trousers have transformed into a new pair of tailored sleeves!  You'll also notice what used to be the lower edge of the original sleeves is now the upper edge of an extended standing cuff.  I slipstitched most of the cuffs original side vents closed as well to give them more structure for a standing style.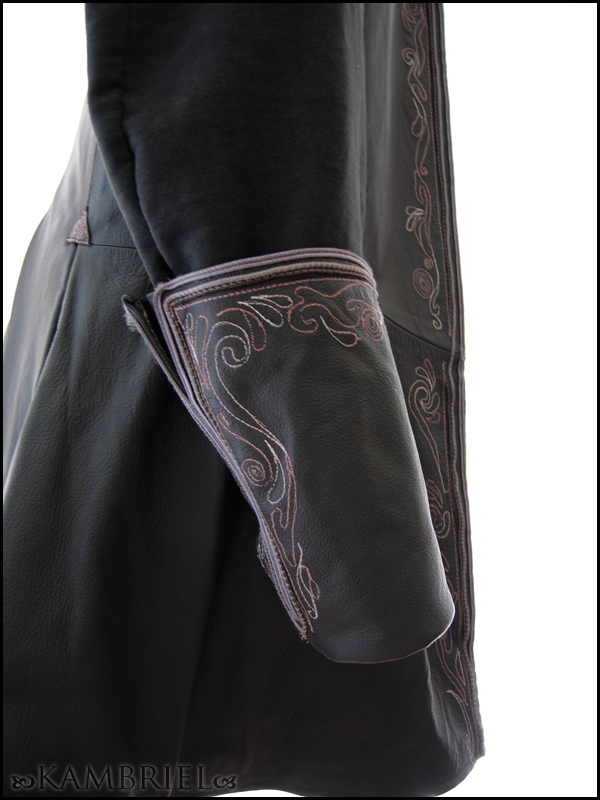 And here is the newly re-shaped hem ~ shorter in the front, dramatically tapering down to longer, pointed tails in the back: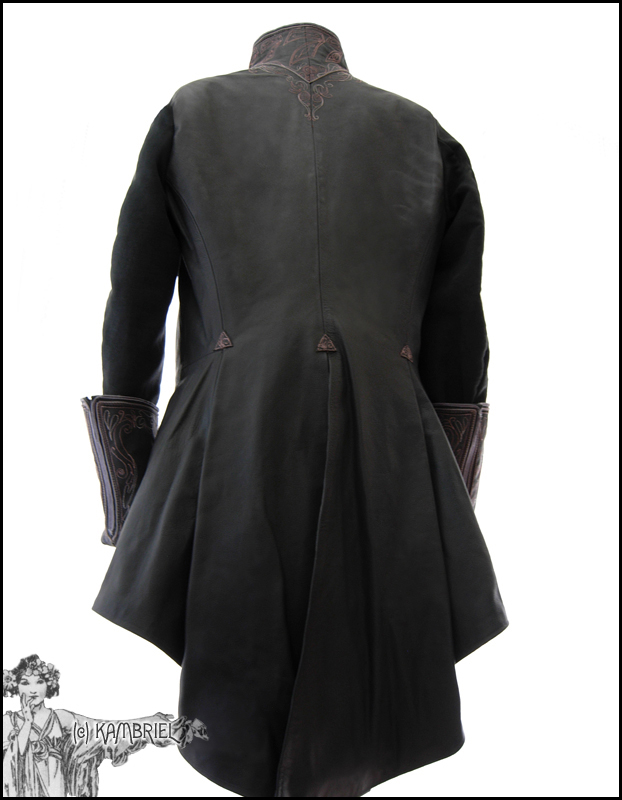 What you can't see is also the addition of several internal pockets as the original design had none.  Ghosts have no need for pockets you see, but very-much-alive authors do indeed. No photos of those. I figure a man's interior pockets are his own private affair. ;)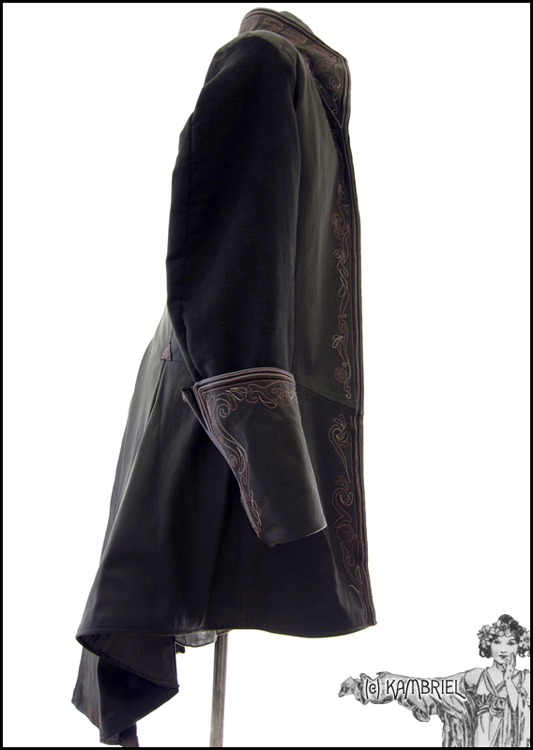 Detail of collar embroidery: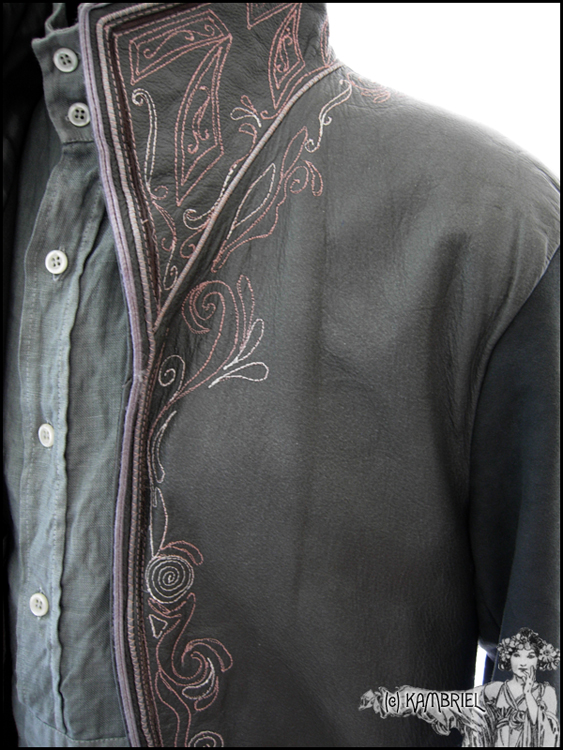 I'm so glad to have been able to take this coat out of the spirit realm and bring it back into a new life ~ here's hoping it has many more adventures yet to come!
all my best,