Museum exhibit & upcoming Kambriel NYC fashion show
There is currently an exhibition at the Goodman Gallery of the Allentown Art Museum (including the Kambriel moiré Midnight Bustle ensemble shown in the photo below amongst other examples of clothing, jewelry, needlework, art, etc…), entitled Gothic to Goth: Embracing the Dark Side which runs until April 29th in Allentown, PA.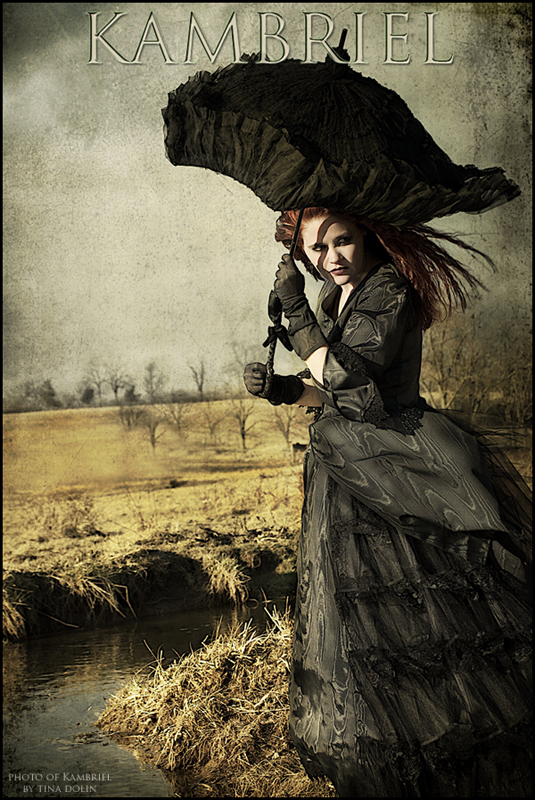 "Gothic to Goth offers an overview of the nineteenth-century cult of mourning in American art and fashion and indicates how that trend translated into contemporary Goth fashion, a genre now embraced by mainstream couture as well as by the rock subculture of the twentieth century. Included in the exhibition are representative examples of mourning art such as needle pictures, paintings, and post-mortem daguerreotype portraits; mourning jewelry and other accessories; two late Victorian mourning outfits; and examples of contemporary Goth fashion inspired by the mourning excesses of the earlier century."
I'm looking forward to checking out the exhibit in person later this month, when we'll be in the area for…
A fashion show we're doing on the afternoon of April 29th as part of the finale for the first ever: NYC 19th Century Extravaganza! 
"The Extravaganza is a three-day, all-ages expo featuring historically-focused classes, hands-on experiences, and performances highlighting nineteenth-century life in New York City. The festival culminates in a full-day of Victorian-style picnicking, performances, and celebration on the lawn of Brooklyn's Old Stone House Museum."

The Old Stone House Museum will be the locale for the fashion show & should make for a really lovely day filled with a 19th-Century Base Ball Game, Open Air Figure Drawing, Bartitsu: The Lost Martial Art of Sherlock Holmes, an Old Time Photo Booth, the Steampunk and Neo-Victorian Fashion Show, & Outdoor Hearth Cooking Demonstration, so do come if you can :)
Allentown Art Museum Exhibit: 
http://www.allentownartmuseum.org/exhibition/gothic-goth-embracing-dark-side
NYC 19th Century Extravaganza: